Today is one of my all time favorite designers' day, it's fun time with Milk N Coffee!
Our theme is Shabby Chic or Vintage and it's definitely the first time ever for me! I chose to work with Charlotte and Butterfly as I really loved this little image so much. Thank you for the wonderful image! I absolutely love Charlotte!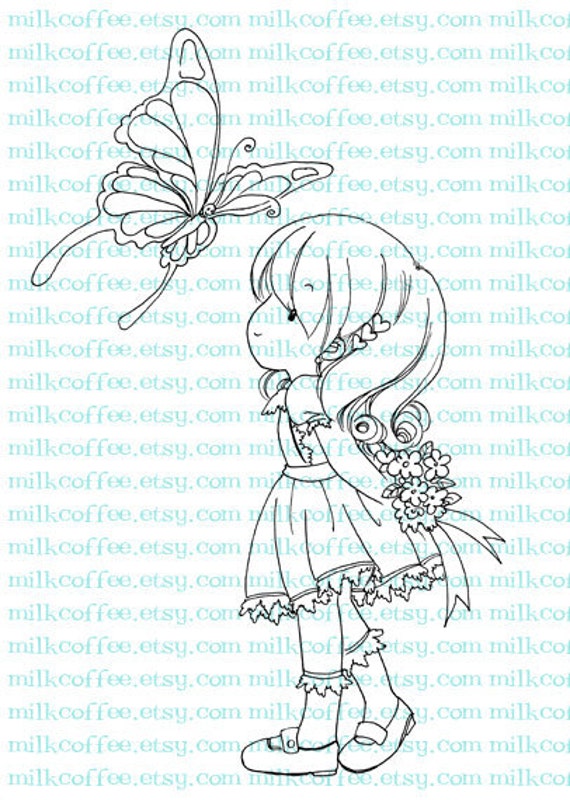 As I started to pull out my card stock —  in LOVE with graphic 45, everything is acid and lignin free and made in the USA!!! — I spotted Authentique Remembrance Collection. The paper collection is gorgeous, archival safe and also made in the USA.
As I was going through the paper, found out that I needed to create a sympathy card so everything was in place to create my newest addition: Never forget the good times….
Copics I used:
Skin: E000, E00, E021, E11 and E04
Hair: E41, E42, E44, E74, E47 and E49
Green: G12, G14, G16, G17  and G19
Dress: V91, V93, V95 and V99
And in order to color, I cannot thank my friend and teacher enough! I hope you too hop over to Kit & Clowder Coloring Community and sign up for the fantastic classes!
Other supplies I used:
– Zig-Zig Memory System Wink Of Stella Brush Tip Glitter Marker – Glitter
– Sakura 57370 10-Piece Gelly Roll Blister Card Assorted Colors Metallic Gel Ink Pen Set
– Tulips by Paper Flowers & Crafts
– All other flowers by Recollection, Michael's Craft Store
Thank you so much for checking out my blog, hugs, Rita
These are all the challenges I join from time to time and entering this project in some of them:
– Marker Pop Challenge #43 Anything Goes
– The Squirrel and the Fox Challenge #69 Mothers Day 
– Stampin for the Weekend Challenge Photo Inspiration
– Through the Craft Room Door Anything Goes
– Glitter n Sparkle Challenge #84 Female Cards
– Alphabet Challenge G for Gorgeous Gowns
– Divas By Design Challenge Anything but a Card
– 7 Kids College Funds Challenge #98 Anything Goes
– Cute Cards Challenge #321 Hand made Embellishment
– 613 Avenue Create Challenge# 69 Anything Goes
– Chocolate, Coffee and Cards Challenge #65  Use a tag
– Crafting When We Can Challenge #68 Die Cut/silhouette/craft robo shapes
– Ruby's Rainbow Challenge #79 Animals
– Card Making Mamas Challenge #85
– Brown Sugar Challenge # 87 Easter
– Totally Papercrafts Challenge
– Sweet Stampin' Challenge Lots of Layers
– Crafty Sentiments Challenge Flowers