And it's Thursday again so that means it's time for our Milk N Coffee inspiration!
Our new theme is Clean and Simple (CAS) and I chose to work with Charlotte with Flowers and Bird as I really loved this little image so much. Once again, thank you for the wonderful image! I absolutely love Charlotte!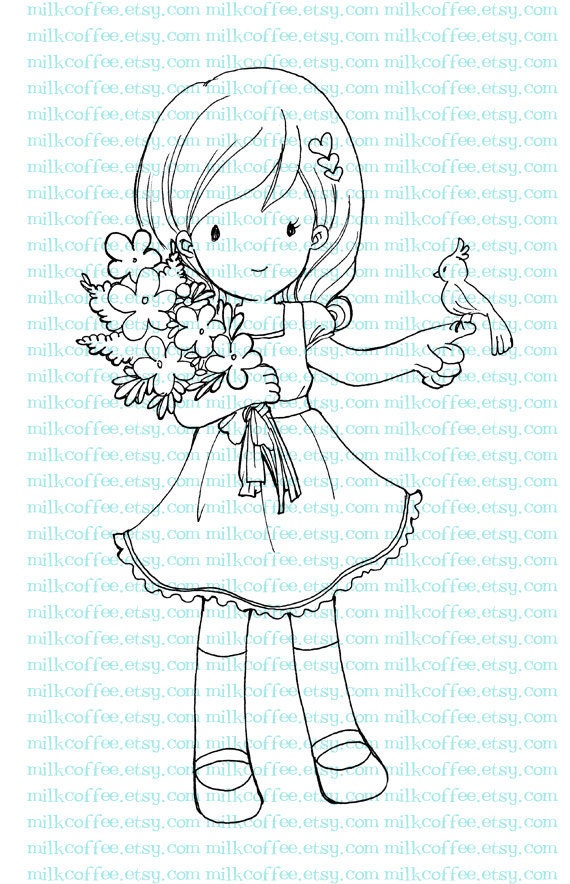 Creating a CAS card isn't as simple as I have hoped… I tried so many different papers when finally chose DCWV's The Tradewinds Stack — believe it or not but the entire 48 sheets of 12″ x 12″ cardstock was $6 at Jo-Ann Craft Store.
Copics I used:
Skin: E000, E00, E021, E11 and E04
Hair: E41, E42, E44, E74, E47 and E49
Green: G12, G14, G16, G17  and G19
Dress: RV63, RV65 and RV69
And in order to color, I cannot thank Alyce, my friend and teacher enough! I hope you too hop over to Kit & Clowder Coloring Community and sign up for the fantastic classes!
Other supplies I used:
– Zig-Zig Memory System Wink Of Stella Brush Tip Glitter Marker – Glitter
– Sakura 57370 10-Piece Gelly Roll Blister Card Assorted Colors Metallic Gel Ink Pen Set
– Brown ribbon and pearls
Thank you so much for checking out my blog, hugs, Rita
These are all the challenges I join from time to time and entering this project in some of them:
– Marker Pop Challenge #44 Pinks
– The Squirrel and the Fox Challenge #70 For the Girls
– Stampin for the Weekend Challenge For the Girls
– Through the Craft Room Door Challenge
– Glitter n Sparkle Challenge #86
– Alphabet Challenge H for Handmade Embellishments
– Divas By Design Challenge Anything Goes
– 7 Kids College Funds Challenge #100 Anything Goes
– Cute Cards Challenge #323 Blues and Hues
– 613 Avenue Create Challenge# 73 Anything Goes
– Chocolate, Coffee and Cards Challenge #65  Use a tag
– Crafting When We Can Challenge #70 no line
– Ruby's Rainbow Challenge #79 Animals
– Card Making Mamas Challenge #87 Over the Rainbow
– Totally Papercrafts Challenge
– Sweet Stampin' Challenge DT call
– Crafty Sentiments Challenge Photo Inspiration