It is new challenge time at All Dressed Up, one of my most fun and totally supportive design teams ever!
Our theme for this challenge is "Your Favorite All Dressed Up Image"
I used the absolutely sweet Love My Sister digital image and turned it into a Best Friends card with a quote I truly love.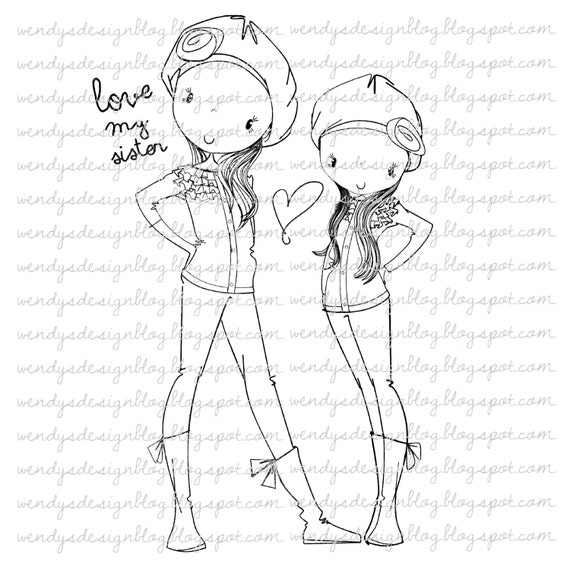 I used my Silhouette to cut around the girls and created the card base using the fantastic Katie Label Pivot Card die set, designed by Karen Burniston for Elizabeth Craft Designs. My paper is DCWV The Lace & Linen Stack.
This challenge will run until July 15th so yes, please head on over to All Dressed up blog to check out the rest of the teams creations, and why not enter the challenge whilst you are there. **Please note**: To enter our challenges, we need you to please use an All Dressed Up Image or paper.
And please remember to stop by our Facebook Group to keep up to date with all the latest All Dressed Up news, and chat to fellow crafters.
My coloring? I cannot thank Alyce, my friend and teacher, enough — wonderful classes, coloring community, support, feedback and just awesome friendships along the journey! I honestly hope that you too will hop over to 
Kit & Clowder Coloring Community
 and sign up for the fantastic classes!
Skin: E000, E00, E11, E21, E04
Hair: E40, E42, E44, E74, E47, E49
Blue: BG000, BG01, BG02, BG04, BG09
Red -Violate: RV63, RV66, RV69
Brown: E31, E33, E34, E35, E37
Thank you so much for stopping by my blog!
hugs, Rita
These are all the challenges I join from time to time and entering this project in some of them (not all):
– Stampin for the Weekend 
Challenge
 Anything Goes
– 7 Kids College Funds 
Challenge
 #103 Anything Goes
– Cute Cards 
Challenge
 #328 Reach for the Stars
– 613 Avenue Create 
Challenge
# 78 Anything Goes
– Chocolate, Coffee and Cards 
Challenge
 #68 Summer Days