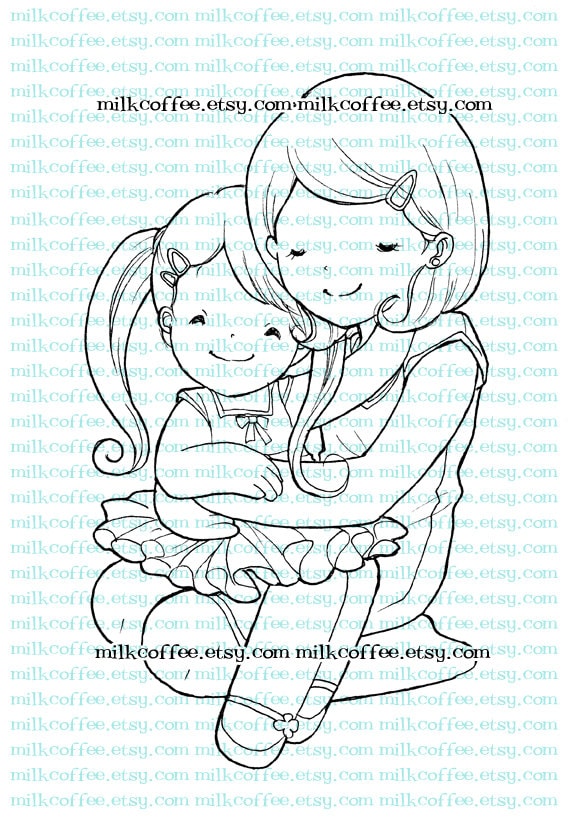 There's something new again with Milk N Coffee, our design team has created some beautiful projects and it's all about BACK TO SCHOOL.
I would like to share my new card with the super sweet Mom's Hug. Can you believe that this is actually my sweet little daughter and me? THANK YOU SOOOOOO MUCH! I will love this little image forever. And the card is for my little girl's 6th birthday. Happy birthday, sweetheart!
Please stop by Milk N Coffee Etsy Store to explore all the wonderful images. What can I say? I absolutely adore these little images as they're drawn by two amazingly sweet ladies I hope to meet one day!
The gorgeous Garden Bench die set and the Katie Label Pivot Card are by the wonderful Elizabeth Craft Designs, designed by the talented Karen Burniston. I also used the Happy Birthday die by Elizabeth Craft Designs. There are lots of flowers today, all by Live and Love Crafts. My paper is K&Company, it's very pretty combination of soft colors and beautiful design. For the card base, I used Martha Stewart Crafts Punch Around the Page Set, Eyelet Lace.
My coloring? I cannot thank Alyce, my friend and teacher enough — wonderful classes, coloring community, support, feedback and just awesome friendships along the journey! I honestly hope that you too will hop over to Kit & Clowder Coloring Community and sign up for the fantastic classes!
Skin: E000, E00, E11, E21, E04
Mom's Hair: E40, E42, E44, E74, E47, E49
Mom's Dress: BG000, BG01, BG02, BG05
Girl's Dress: R81, R83, R85, R89
Girl's Hair: E31, E33, E35, E37, E29
Thank you all for stopping by on this fun Thursday! And really, thank you so much for checking out my blog, hugs, Rita
Entering the following challenges:
– Live & Love Crafts Challenge #27 Things with Wings
– Natalie and Amy's Challenge #24 Things with Wings
– Little Miss Muffet Challenge #93 Blue and Greens
– Brown Sugar Challenge #109 Anything Goes (didn't enter)
– Crafty Sentiments Challenge Anything Goes
– The Squirrel and the Fox Challenge #76 Spring or Autumn
– Through the Craft Room Door Challenge Anything Goes
– Alphabet Challenge O for Ombre
– Cute Cards Challenge #337 Rainbow (didn't enter)
– 613 Avenue Create Challenge #87 Anything Goes
– Ruby's Rainbow Challenge #87 Keys (didn't enter)
– Crafting from the Heart Challenge #34 Anything Goes
– Artistic Inspirations Challenge #107 Anything Goes